Top 5 Underrated Real Housewives Moments
,
Top 5 Underrated Real Housewives Moments
From Teresa flipping the table on Danielle, to Rinna smashing a wine glass in Amsterdam over talk about "the husband", the Real Housewives have always served us iconic moments, gifs, reactions and lines. The Real Housewives first franchise was Orange County, but since 2006 countless cities have been added including New York City, Beverly Hills, New Jersey, Atlanta, Salt Lake City, Potomac and more. Today we'll be recapping 5 underrated moments from various cities that'll have you yelling "Bravo! Bravo! F*cking Bravo!"
1. "It's in water." RHOBH S4 E14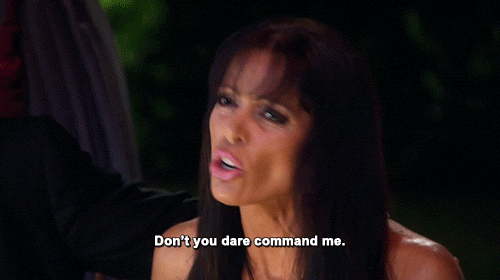 Personally, I believe season 4 of Beverly Hills is criminally underrated. This season saw the addition of two new Housewives, Carlton Gebbia and Joyce Giraud. And with new wives, comes new (witchy) drama! Carlton is very vocal this season about the fact that she practices the modern Pagan religion Wicca. This startles some of the wives, specifically Kyle Richards who makes various comments about it to the other wives and in her confessionals. After a fight, Richards even questions if Carlton has casted a spell on her after seeing "strange" words appear on her desktop. But it all boils down to the iconic fight at Lisa Vanderpump's house where Richards and Gebbia get into it heavily after accusations are thrown around. This underrated moment happens when Carlton says in this scene that the necklace Richards gave her a while back is "in water". The full hilarious quote being "That necklace went right into a glass of distilled water cause I was cleansing it." The absurdity! Carlton ended up being a one-season wife but we will always appreciate the Wicca we all hated to love for serving hilarious confessions and questionable interior design choices.
2. "It's just business, Mary." RHOV S1 E9
If you haven't watched the two iconic and severely underappreciated seasons of the  Vancouver housewives, you are not a true housewives fan. I said it. The first season aired in 2012 and quickly became a fan favourite due to the outrageousness of the characters. Airing in Canada on Slice, the series also became Slice's highest rated show to date (you can now watch it on Hayu and other streaming services). The first season cast consisted of Mary Zilba, Ronnie Negus, Jody Claman, Reiko MacKenzie and Christina Kiesel and I just have to say to the casting producer who made this happen… you're an absolute legend. The dynamics in this group were insane and led to some of the funniest, most quotable arguments and discussions in Housewives history. In Episode 9 specifically, Jody gets wind that Mary has been insinuating Jody's store sells fake Hermes bags and is livid! At Christina's event at...wait for it.. Hudson's Bay (you can't make this sh*t up) Jody decides it's the perfect time to serve Mary with a cease and desist letter from her lawyer. Jody and her daughter Mia show up, get into a verbal altercation with Mary after insinuating she can not afford to be at this personal shopping event, refer to Mary as "sweet cheeks" and then proceed to serve her with legal papers. Ronnie, Mary's long time friend, reads the letter to the group and then rips it up after Jody and Mia have left. The whole thing is absolutely ridiculous and just ONE of the many hilarious moments that the Canuck Housewives gave us!
3. The Glass Shatter Heard Across the World. RHONY S12 E15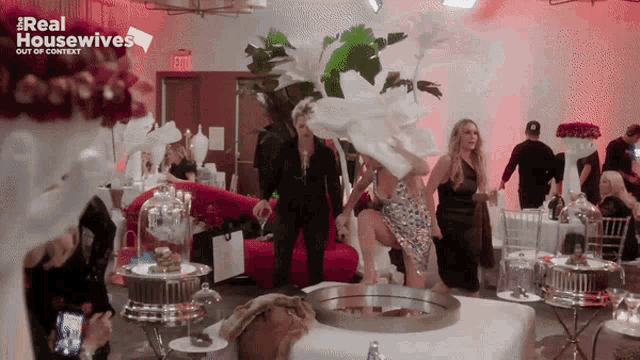 If there's one thing we can come to expect from the New York franchise of Housewives, it's a wine-drunk brawl of epic proportions. And this episode is nothing less of that! It's season 12 and Ramona Singer's birthday where she is hosting "50 of her closest friends" at an extravagant NYC hall. Oh Ramona. New cast member Leah McSweeney and fan favourite Sonja Morgan are ready to party! Throughout the night, Ramona is visibly disapproving of Leah's overtly sexual dancing and outfit choice, at one point yelling "Get the f*cking producers here! Shut it down! I'll f*cking quit the show right now!"  And that's when it happens. Sonya decides to put a giant bow on her head, step up on to a table with a mirror on it and with a STRAIGHT face, dance on it in her heels while it shatters. Insanity. Spoiler alert though: Ramona didn't quit the show - us viewers can go to bed at night knowing there will be more birthday episodes with 50 of her closest friends.
4. When Kenya Checked Andy: RHOA S8 E18
Kenya Moore is one of my favourite housewives of all time. The way she checks, reads and gathers the other Atlanta housewives is genuinely unmatched. And who could forget that she's gone with the wind fabulous? But sometimes, it's not just the other housewives she has to shade, it's Andy Cohen too! At the Season 8 reunion while Andy is reading a fan question, Kenya interrupts him and says "You wanna be chewing on whatever it is you're chewing right now?" with Andy responding "Sorry I'm gonna swallow". That's when Kenya quickly delivers the iconic comeback: "I know you've said that before many times." We stan a sexual innuendo read! And the quickness of it? Iconic. Andy and the other wives are clearly shook and all let out a synced "wooooo". And like her tagline of season 8 says "Don't come for me, unless I twirl for you."
5. Tamra Proving She's a Runner, She's a Track Star: RHOC S9 E16
Another staple in Housewives franchises are dramatic exits. And Orange County Housewife Tamra Judge proved to excel at them in the Bali episode of Season 9! In this episode, Tamra is confronted by both Vicky and Lizzie for different reasons. Vicky was angry at Tamra for speaking ill of her relationship with the infamous Brooks and Lizzie kindly tells Tamra she is the most "insecure woman I've ever met". Nice dinner time convo! The best part of the whole scene is the shot of Tamra barefoot running through this huge hotel lobby, holding her shoes, screaming "You will never see my face again! Goodbye. F*ck you guys!" Spoiler alert again: they definitely saw Tamra's face again, but I'm sure they're impressed with her track skills.