The Importance of Lil Nas X and his Queer Art
,
On March 26, 2021 Lil Nas X released his highly anticipated single "Montero (Call Me by Your Name)". After months of teasing the song on TikTok, the song was out, alongside the music video. What came after was intense media coverage and controversy. The music video portrayed Lil Nas X in his very own depiction of the garden of Eden, ending with him sliding down a pole to Hell in latex thigh high boots and underwear. When he reaches Hell, he does what any one would do after arriving to Hell in a pair of latex boots, he gives Satan a lap dance. After months of speculation, Lil Nas X, real name Montero Lamar Hill, publicly came out as gay on the last day of Pride Month in 2019. This was a big moment for the hip hop community, as well as the LGBTQ community. By this time, Lil Nas X had already broken the US Billboard Hot 100 record, with "Old Town Road" peaking at #1 for 19 consecutive weeks, breaking Mariah Carey's record for "One Sweet Day" (16 weeks). He had also already won two Grammys.
The intense commercial success especially for a debut artist was extremely impressive and now it was time for him to do something he felt represented him authentically. While there have been other queer artists such as Troye Sivan and Frank Ocean in pop culture, none had come close to the commercial success Lil Nas was seeing. Variety's Adam Vary said the "Call Me by Your Name" video "changed everything for queer music artists", noting the importance of Lil Nas explicitly singing to a male with the song. With the praise for the queer themed art Nas had released, backlash and controversy came along with too. With conservative commentators and reporters calling it "immoral" and "harmful to children". It's 2021 and Fox News still believes it's a pop stars job to raise their children. Incredible. Similar criticism was given to the likes of Lady Gaga when she released the religion-themed Judas, Madonna when she released Like a Prayer and Nicki Minaj when she performed "Roman Holiday" at the 2012 Grammys. (Fun fact: Lil Nas X ran a popular stan twitter account for Nicki Minaj pre-fame).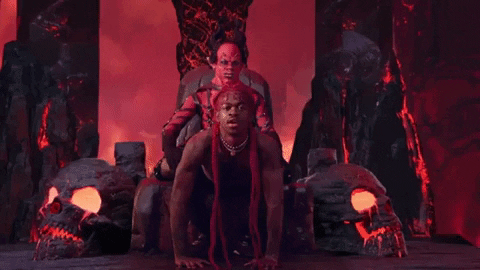 What's interesting to see was that the criticism wasn't there for "Old Town Road", even though the song references Lean as well as sex. The people criticizing "Call Me By Your Name" were not coming for "Old Town Road" in the same light, or deeming it "inappropriate" for young audiences. It seems that criticism was reserved for an unabashedly queer song and video. Lil Nas X's response to the controversy was typical of his online persona. He trolled the critics in the best way possible. Responding to Candace Owens claim that he is "destroying our youth", Nas simply tweeted "don't care and ur a flop". We stan an unbothered king. The controversy surrounding both the song and video seemed to only help Nas, as it debuted at #1 in the US, becoming his second #1 single. 
The music and song, as well as Lil Nas X as an artist, are all so important to have represented in the media. A queer person of colour succeeding in the mainstream media, and breaking down societal expectations with his art is exactly what 2021 needs. That and vaccines.