Lisa Rinna's 3 Messiest Housewives Moments!
,
What's that? Do you hear that? It sounds like a collective distant applause from all over the world.
Yes - it finally happened. Just 5 days into the new year, many Housewives fans rejoiced as news of Lisa Rinna's departure was officially announced. For months, rumours have been swirling about the controversial housewife and her status in the upcoming season of the Real Housewives of Beverly Hills (set to start filming this month). For many Housewife fans (including this writer) Rinna's antics on Housewives have been tired for many years and she has become hard to watch. That's not to say she hasn't had her good moments on her run since Season 5 but again - many say her recent moments have grown desperate. Today we will be owning it and looking back at just some of Rinna's messiest moments.
1. The Munchausen Messiness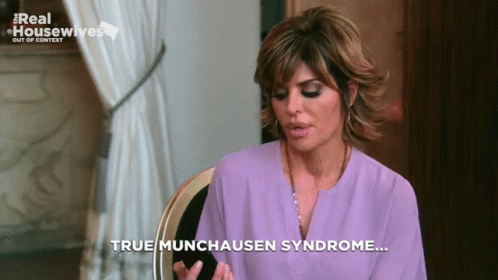 Every Bravo fanatic will take a deep sigh when they remember the Munchausen debacle from Season 6. At the time, Lisa Rinna was still new to the Housewives franchise - it was only her second season but that didn't stop her from making some outlandish claims! During this season, fellow co-star Yolanda Hadid was struggling heavily due to her recent Lyme disease diagnosis. Fans felt for Yolanda, as she was visibly ill and missing major moments in her life - such as going to some of Gigi and Bella's first fashion shows. She was essentially bed ridden for months trying to find a way to feel better from her disease and who thought it would be a fantastic idea to imply on camera that she was faking it all for attention? That's right - Lips. I mean Rinna. Rinna came over to Lisa Vanderpump's house with Wikipedia at the ready to read the definition of Munchausen disease (which is essentially faking illness for sympathy or attention). Rinna had said she had "participated in a conversation" about it with a third party and had felt guilty about it. Yeah - felt so guilty that she broadcast the false narrative to millions on national television. However, this moment did make it possible for Yolanda and Erika to read Rinna for filth at the Gay BBQ Erika hosted! Watch below:
 2. AmsterDAMN
You don't even have to be a fan of the Housewives to know this messy reality TV moment! It has brought us quotes such as "Let's talk about the husband" and the iconic "Maybe have a piece of bread and you'll calm down." In Season 5, Episode 16 Yolanda takes the girls to her homeland in Amsterdam in the Netherlands. She is initially excited to show the fellow women where she grew up and how she lived. Of course, being a Housewives franchise however, it did not take long for the group trip to get messy - courtesy of Lisa Rinna. On the private jet ride over to Amsterdam, fellow co-star Kim Richards simply asked Lisa Rinna to stop questioning her sobriety - which was something that was deeply important to her. Kim had quite a tumultuous past with alcohol on the show and everyone knew that but again, it did not stop Lisa from questioning it on camera. At the infamous dinner, Lisa puts on her subpar soap actress acting skills to apologize to Kim if she's brought up things that may have been too personal leading to yet another discussion about Kim's sobriety on camera. That's when Kim says the iconic line "If you want to talk about my life, let's talk about yours..." and then the zinger "Let's talk about the husband" - implying something that happened with Lisa's husband Harry Hamlin. This sends Rinna into a blind rage where she attempts to choke out Richards from across the table and smash a full wine glass on the table. Relive the MESSY moment below! 
3. Hilton Vs. Rinna
In the latest (and Rinna's last) season of Beverly Hills, the main drama revolved around the feud between newly added cast member and icon Kathy Hilton and Lisa Rinna. Allegedly, according to Lisa, Kathy had a meltdown in Aspen when the DJ wouldn't play her request. It was just Rinna and Hilton in the sprinter van back to Kyle's house where the alleged breakdown happened. Rinna wasted no opportunity to turn Kathy's meltdown in the main drama that "traumitized" her to the point where she "had to lock herself in her bedroom". Fans were quick to believe Rinna had it out for Kathy and wanted to make her look bad this season, since Kathy was something Rinna was no longer: a fan favourite. In typical Rinna fashion, new details were constantly added to Hilton's "meltdown", and she apparently had something bad to say about all her co-stars including Dorit, Crystal, Kyle and Erika. Rinna said ridiculous things throughout the rest of the season, saying she was "abused" by Kathy, that Kathy was "a monster" and that "she could not hold in these things" or she "would get cancer and die". Things did not go to plan though, and more support than ever was shown to Kathy during this season. At the explosive reunion, Kathy iconically calls Rinna the "biggest bully in Hollywood" and added "everyone knows it". It felt as though Kathy voiced what many of us had been feeling about Lisa for many seasons and she was praised for doing so! Watch Kathy drag her below as she proves once and for all Kim Richards Season 5 point that "Kathy would never act like this. Kathy would have my back like a REAL sister."
What's your least and most favourite messy Rinna moment? Will you miss her or are you glad she got the boot? Crack a bottle of Vanderpump Rose and let us know in the comments below.